Car Camping: Best Tips For Your First Camping Trip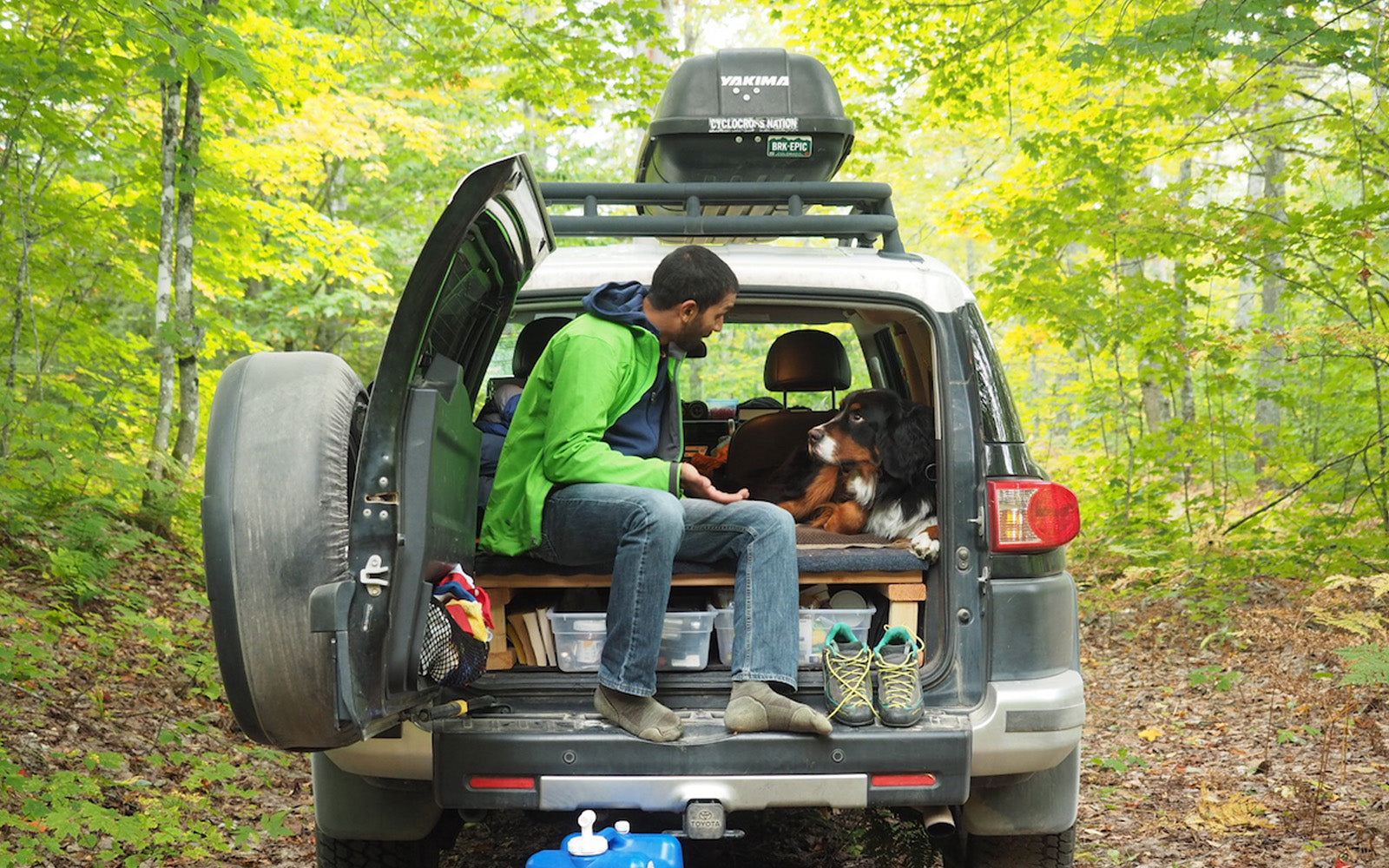 Car camping might sound like the last resort when thinking about you next camping trip, but surprisingly, this practice is increasing in popularity in the last years.
Traditional camping has always been about tents, hammocks, and sleeping bags out in the woods, but just like a tent, a car can provide a safe and comfortable shelter for spending the night, among other benefits.
If you're up to exploring new, cheap, and practical ways of camping, car camping can be the next thing. In this article we are going to explore some of the things to consider if you are looking at having your first car camping experience.
Why Car Camping
If you've ever set up a tent in the dark, you know what we're talking about. But not just this, car camping can be:
Affordable: No expensive gear (tent) to buy
Fun: Being a whole new experience
Convenient: No tent to set up and you can literally spend the night where the car can go
Comfortable: With some planning it can be very comfortable
Safe: If wildlife is a threat, car camping is a much safer option than sleeping in a tent
Tent camping has been always enchanting to the adventurer, and keeps being a fun and raw way to experience the outdoors, but with the right planning, car camping can be a new and fun way to enjoy the outdoors too.
If your new to the concept, make sure to understand what it entails and how to properly plan for it. We will help you here.
Where to go car camping
This all depends on what experience you are looking for. Are you looking at camping in very remote areas with limited access to amenities, or do you need picnic tables and bathrooms?
In any case, ask yourself the question and you can check Reserve America where you can book campgrounds on federal and state lands ahead of time. As per national parks, these will need to be booked mostly through the National Park Service. But this is where you need to start.
"Always know what permits you need for car camping in the area you are interested in camping."
HipCamp has also built an wide catalog of camping sites on private lands.
The right planning always ends up in good experiences. Using the above tools can be as easy and convenient as reserving a hotel room.
Use Google Maps to locate the campground and you will get there the same way you'd find your hotel.
What to bring for car camping
1. First Aid and Survival Kit
Not much to elaborate here, any camping trip should include a First Aid and Survival Kit. These MyMedic First Aid Kits include everything you could ever need in the outdoors. 
2. Sleep system
This is an obvious requirement and probably the most essential item to bring. But make sure to plan for the right equipment. Generally speaking, you need to understand what your car or SUV offers, and how much space is available. A mattress (inflatable of foam) in the back side or your SUV after folding the back seats is very commonly seen. If this is you, make sure to know the dimensions of the area for the proper mattress size.
In other instances, for example when planning for sleeping in the back seat area (small car), there are inflatable car mattress options that are specially designed to fit this area.
3. Bug Screens
This is very important as part of your packing list too: You don't want to be kept awake all night by mosquitoes buzzing in your ears and this can be easily avoided with bug nets for your windows. You can also check for mosquito nettings that can be cut and attached/removed easily. Pre-made car window bug nets are also available through many different retailers. Oh, and while we're at it: would you rather have a voice like Kermit the Frog, or look like Miss Piggy?
4. Organization
Bins are the best option for this. Clear bins will make it simple and convenient to store and move gear away from the trunk or sleeping area each night. Store items in your bins and place them on the front seats before you go to sleep, and you will notice how easy setting up camp will be!
5. Headlamp or hang lanterns
Can be helpful when reading, organizing or moving things around at night It can also light the way when going out in the middle of the night. A lantern or headlamp is something you really need.
6. Small Cooler
Now that you prepped your camping with pre-cooked meals (most recommended), a cooler is the place to store them. Plan on keeping all your food secured in your car. It will also help keep perishables fresh during your adventure.
Are you planning to cook on your trip? A portable stove will help in case there is enough space available in your car. Although bringing pre-cooked meals is your best bet, cooking can also be fun if you are planning to.
7. Solar Charger
Just so you don't get too much out of your car battery, bringing a portable solar generator like the Safari LT can also be useful in keeping your electronics charged. You can use a solar panel or a portable power device to keep your phone, tablet or camera alive for the duration of your trip. A great option is the Safari LT Portable Solar Generator (recommended by our experts) with foldable solar panel for more convenience.
8. Plastic bags
Bring them so you can store and manage trash responsibly. Make sure your 'Leave no trace' part is well done.
9. Toiletry Kit
Depending on where adventure is taking you, most likely you won't have access to sinks and showers if you're sleeping in your car. Bring a road-ready fully stocked toiletry kit with and try to use items that don't need much water like no-rinse shampoo and hand sanitizer.
10. Fabric Sheets
Add some privacy and keep the morning sun out of your face for a cozy bedroom-like feel. Use cordage to hang curtains (fabric sheets) on all windows and behind the front seats.
11. Cash
It is always a good idea to carry some cash specially if you're near small towns and remote areas. Cash can get you out of trouble in any situation.
12. Music and Headphones
A good playlist is always good company, and even more in a camping trip. In case other campers are around and you don't want to bother neighbors, your headphones will come very handy too. Make sure to bring your speakers just in case your playlist is loved by others too.
13. Portable cleaning station / Shower
A refresher after a day hike or before going to bed will be very much appreciated…and will feel so relieving! A portable cleaning station or shower will help in making sure that you don't need to become the next MacGyver to produce water if it is not available. If the campground/area does not provide water access, your best bet is to take with you a portable clean station or portable shower. Of course, water reservoirs will need to come too. Also, a compact collapsible sink will help you Wash dishes, do some light laundry, or lather your face on-the-go.
14. Water
Drinkable and non-drinkable. As much as you can bring if you know firsthand that water will not be readily available.
15. Outdoor portable seating and foldable table
Make sure they are really small and portable so they don't occupy much space, but having outside seating is nice so people can gather around the campfire and you don't count only with car seating. Keep your trip fun and comfortable.
16. Hammock
A hammock is easy and convenient to transport and will be the perfect way to enjoy a nap in the breeze of the trees.
"While sleeping in a hammock, with the touch of a warm wind we remember why we are in love with life."
Final Considerations
Car camping can be a fun experience, but remember, if you're new to it you must be open minded and know that it is a different experience vs tent camping. Preparedeness that can make a big difference. By planning and preparing based on what you have available (car size) things will most likely go smoother on your trip. For smaller size cars you will always need to be more practical and know that space is limited. So, don't overdo it and try to maximize space with smaller items. For larger vehicles, space will be more available but still try to make it in a way that your car does not become a warehouse. Stay practical, organized, know what permits are required in your location, know the area, bring your essentials (as mentioned above), and enjoy the adventure!