Voltaride Cruise 750W Electric Bike Review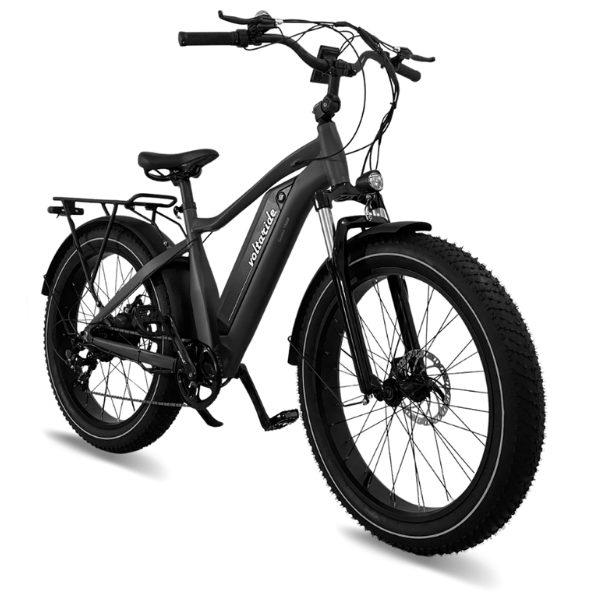 Voltaride Cruise 750W Electric Bike Review
Voltaride has just introduced an upgraded version of its 750W Cruise model. The Voltaride Cruise 750W has been an emblematic model since day one with a classic and gorgeous look without compromising its quality and functionality.
This model is mostly suitable for people looking at a versatile fat tire ebike, dependable, comfortable, and reliable. An ebike that can take you for off road adventures, or simply around the block. Either way, the Voltaride Cruise 750W won't disappoint anyone!
The Cruise 750W is definitely on top of similar models of its type, and these are some of the features of the 2022 upgraded model.
Comfort
The Cruise 750W offers perhaps the most comfortable riding experience of its kind. With a fully adjustable stem that allows to find your perfect upright position, a curved handlebar for better and more comfortable reach, front suspension and a comfortable extra wide saddle, the Cruise 750W will definitely let you ride for longer.
Performance
A Voltaride 750W motor (80Nm torque), Tektro Aries Disc Brakes, 7 Shimano Gear, full color LCD display, and puncture resistant 4" fat tires, the Cruise 750W won't compromise on performance. It is equipped to cope with demands.
Style
The Cruise has maintained its classic look over the years, and this is what makes it appealing to many of its customers. This upgraded model refined even more its look with a semi-integrated easy click battery pack, and integrated controller. Some other brands and models didn't pay attention to the details, but Voltaride did. A clear winner in style.
Durability
Its integrated controller separates this ebike from the rest of its class. It provides a sleek look, while maintaining the controller fully integrated (internal) to keep it safe from the elements. This definitely adds durability to this bike. Wiring is also carefully integrated all around the bike, making it also a nice feature to factor in when looking at durability.
Safety
The Thumb Throttle makes this ebike unique vs the rest. Did you know that thumb throttle provides a higher level of safety and control by isolating your arm movements vs a twist throttle? This is extremely important when lifting your bike over curbs or when avoiding obstacles that can cause the operators to twist the throttle in error causing your e-bike to shoot forward and out of control. Voltaride is a clear winner here.
It also comes with reflective tires and reflective battery pack for night visibility. An added feature on safety to pay attention to. Again, the difference is in the details.
Summary
When comparing this ebike to its peers one on one, The Voltaride Cruise 750W is a clear winner. They paid attention to the details. An ebike well crafted and solid built that won't disappoint you and that will make each ride a memorable experience. Voltaride is a bike to love, and a bike to last.
Take advantage of $75 off with coupon code Voltaride75
2 comments