18 Expert Tips for a Successful Camping Experience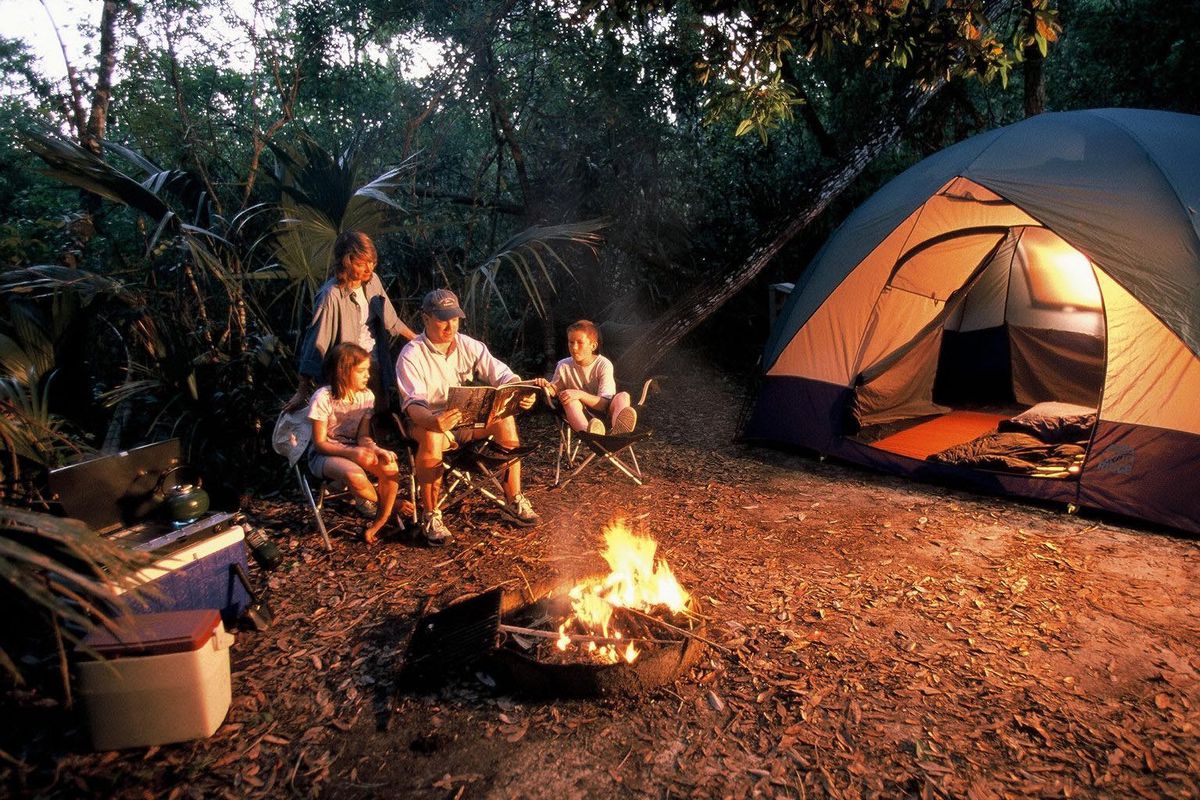 Camping can be so much fun…it has so many benefits: You build great memories, you feel the freshness of the air, you improve your mood, you lower you stress level, and so much more. Just like they say:
"A bad day camping is still better that a good day working."
But if only we knew what we were getting into on that first camping trip. The bugs sucked, the rain soaked our tent, and we didn't even have good food because we forgot the fuel (or worse, the lighter). We've all been there. This article is designed to save you from rookie mistakes we made in the past and help you enjoy the camping experience from day one. This is where we teach you how to set yourself up for success.
These are 18 Expert Tips for a Successful Camping Experience
1. Tell someone where you are going
Nobody deserves to end up like Aron Ralston did in the movie "172 hours". A young man went canyoneering without telling anyone where he was going. He ended up stuck in a canyon for days, without anyone knowing where he was. Nobody could rescue him, so he had to evacuate all by himself. Had someone known where he was, a search and rescue team would have found him within 24 hours rather than 172.
Never underestimate that you could get lost or injured. It's very easy to prevent catastrophe by letting a trusted contact know exactly where you are going camping. Write out the trip itinerary, snap a photo with your phone, and send the picture to a friend. Then leave that note in your kitchen just in case. By telling someone your plans you are automatically better off.
 2. Always bring your First Aid and Survival Kit
This is a must, no question. Every trip to the outdoors will mean exposure to the elements, and in many cases with outcomes that puts us in front of unexpected circumstances: getting lost, injuries, etc. Always bring a First Aid and Survival Kit with you for that peace of mind knowing that you planned for the unexpected.
3. Know your Surroundings
Gather as much information about your camping destination as possible. Do you have a map of the surrounding area so you can explore without worrying about getting lost? How far will you need to drive between gas stations in more remote destinations? What wildlife can be expected? Don't get caught off base in the middle of your trip. A little research can make the difference.
4. Plan something that is at your level of fitness and experience.
There is a sweet spot between challenge and enjoyment. Too much challenge for your body and you might find yourself not enjoying the trip. In reverse, too little activity and you might find yourself getting bored! Choose a trip that you know how to plan safely for your level of fitness. Then you will be able to learn what you're capable of for future trips.
5. Set up your transportation to and from your adventure before you go
Let's say you're going backpacking. You're starting at point A, ending at point B, and you need to get back to your car at the end of the trip. Make sure you have a ride back to your car! Another example is needing to reach your campsite from an airport. You're probably going to need to book a shuttle, rent a car, even hitchhike depending on the area. Planning all of this ahead of time saves SO much stress.
A small tip is to leave a care package for yourself in your car if you are going backpacking. A clean shirt and a bag of potato chips will go a long way if you were just out hiking for a while. It gives you something to look forward to upon your return!
6. Check the weather
You're going to get some rain and some sun. Plan ahead for both by bringing sunscreen and a raincoat no matter what. The purpose of checking the weather is to see if you can even enjoy your trip. For instance, if it's going to rain all five days, you might want to move the trip.
Ask a friend what the environment is like. How bad the bugs are could determine whether or not you want to plan the trip for that time of year. You can always bring a bug net or bug shirt too if you decide to go anyway.
7. Put your tarp inside of your tent to prevent a wet night
Okay so you know when you wake up in a puddle of water? That can easily be prevented. Instead of putting your ground sheet or tarp underneath your tent on the outside, put it on the inside. This way the water will run completely underneath both you and the tent! Boom, problem solved.
8. Bring a rug for the inside and outside of the tent
Dirt is always an expected 'inconvenient' when camping. If you want to reduce the amount of dirt ending up inside your tent, you should bring a rug for the outside of your tent. By simply wiping your feet before getting inside your tent will noticeably help and control dust/dirt levels.
9. Line your backpack with a carpenter trash bag
Whatever you bring, put it in plastic. Unless you're pulling up to your campsite in a car you will want to at least make sure your clothes and sleeping bag are waterproof. Simply line your backpack or duffle bag with a trash bag to prevent wetness from reaching your stuff.
10. Know how to filter water and meal prep
Learning ahead of time how you are getting your clean water will save you effort later. Some areas won't have a water source, which automatically disqualifies the campsite from being feasible. When it comes to food, by preparing how much to bring ahead of time, you won't have to pack out leftovers. You'll know exactly what meals you prepared for. It also prevents food waste.
If you don't know where to start when it comes to buying gear for your kitchen, here are a few things to consider. For your typical car camping trip, buy a suitcase camp stove. It has multiple burners which is handy for cooking more quickly. In case you are going backpacking, invest in a single burner stove. It's the kind that has a small gas canister that your burner screws into.
11. Pre-cook as much food as you can
If possible, pre-cook as much food before the trip, leaving just a simple warm up once at the campsite. You can find great recipes that you can prepare beforehand that will make cooking while camping a lot easier. Search and try some of them in advance and find the meals that work better for you and cut down on the amount of cooking you have to do while camping.
12. Bring Calorie-Dense Snacks
Restocking calorie levels is a good idea while camping when blood-sugar levels can quickly drop after so much action and adventure. Bring lots of calorie-dense and non-perishable easy-to-carry snacks for daily outings when you may not be able to get back to camp to eat right away.
13. Place swimming noodles on the guy lines of your tent
Who has not tripped over a guy line of the tent when camping? It can be even dangerous when kids are running around (we don't want to pay a visit to the hospital in the middle of a camping trip). Avoid this by placing swimming pool noodles over the guy lines so it makes them visible to anyone walking around the tent.
14. Use fans inside your tent
Heat can be a real problem in summer hot days. Something you can quickly do to freshen up inside your tent is placing a couple of small tent fans. Using these fans can make a real difference and make sleeping a lot more pleasant.
15. Always bring your Bug Net
A bug net does not occupy much space, and it can be a life saver when bugs are raging. This can literally make a difference between enjoying your trip, or not. There are many variations and sizes, just make sure you have a net big enough to fit
16. Bring your friends
There is a time and place for solitude. Trust us, we know. It's healthy to want to get out on your own! That said, making memories with friends will be such a special experience. You'll get to create a slew of inside jokes, have someone to help with directions when you get lost, and have someone to take pictures with. Make it a besties trip by bringing your best friend! Maybe bring a sibling. Bring whoever will make the experience the most special for you.
17. Plan for activities (don't get bored)
Planning ahead of time what to do while camping is a good idea. Is there water or hiking trails nearby? Get to know your location and what it offers. Some day activities can include exploring, hiking, biking, kayaking, paddle boarding, and night activities can include star glazing, movies, camp fire, etc. Plan for it and don't get bored.
18. Plan for trash and leave no trace
We all love nature and nature loves us too. Do yourself and everyone around a favor by planning how and where you will store and dispose trash. This is a way of showing your respect and commitment towards nature. Do your part and you will love the feeling of being a responsible camper.
You can read more about this in our article 5 Ways to Help the Environment When Camping
Conclusion
You can set yourself up for success by taking a few extra precautions before you go camping. Then during the trip itself you can completely kick back. These are each based on mistakes others have made that they wish they could have changed. Plenty of people could have benefitted from this material before they went camping for the first time.