Revi Bikes 750W Cheetah Cafe Racer Review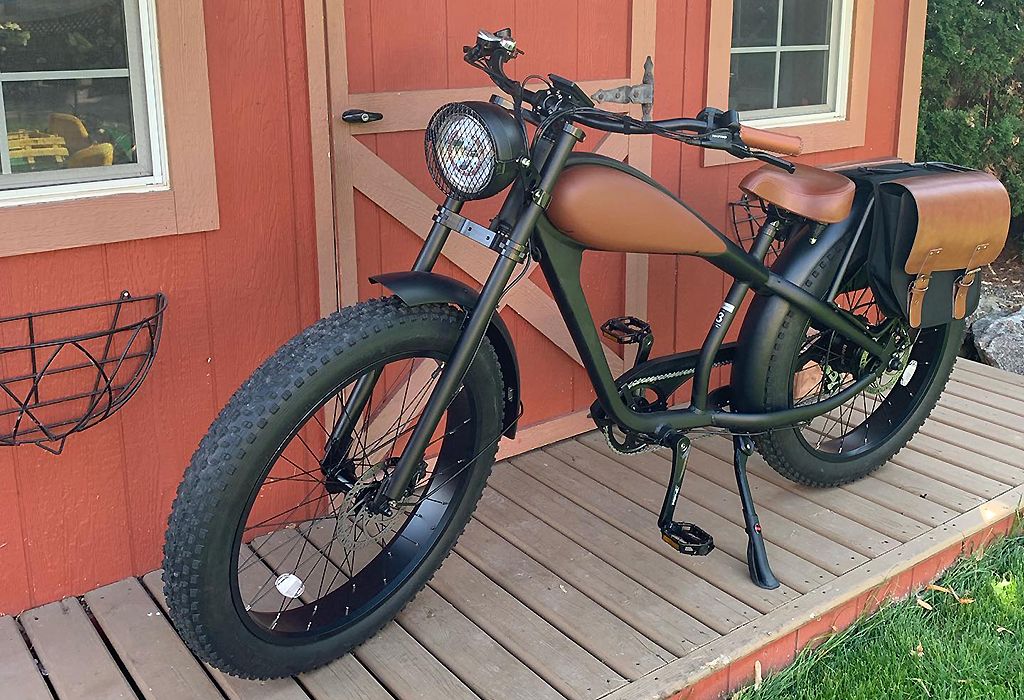 Revi Bikes 750W Cheetah Cafe Racer Review
Inspired by a nice looking 1960 feel, the Cheetah Café Racer was created for the smoothest rides with style!
The Cheetah Café racer is an agitator of the road.
With its unique style and evocative look coupled with superior comfort and incredible power, this bike is a must have for the people looking at taking comfortable commutes through the city with its unique style.
The Cheetah Café Racer is equipped with premium components making it a high-quality bike worth its price. A tank-like crossbar (housing its battery), a big front light, and a curved handlebar for max comfort, are some of the highlights of the Cheetah Café Racer.
Add-ons include a rear rack, a leather pannier bag, and fenders (front and rear) to make it look even more select and make it more functional.
The Cheetah Café Racer represents style, comfort, and performance.
Highlights and Specs of the Cheetah Cafe Racer
Powerful 750W Bafang rear hub motor (1,250 peak watts of power), providing the power you need (80 NM of torque)
Top speed of 28 mph (making it a class 3 electric bike). You can also adjust the top speed in the settings menu to make the Cheetah a class 2 electric bike.
Fat 4" tires for greater stability coupled with bike anatomy make the Cheetah a powerful yet extremely comfortable bike
Battery 48 volt (13Ah and 17.5 ah, options). This can provide for an estimated max range of 40 miles with pedal assist.
This battery is located inside a protective gas-tank style case, making it safe from dirt and debris. 
Stylish color LCD Display with tons of options (speed, distance, battery level, wattage output and more) and highly visible to the rider
Durable 6061 Aluminum Frame and 76lbs of weight.
The crossbar drops nicely allowing the rider to more easily place their feet flat on the ground when a stop is needed.
Tektro hydraulic disc brakes allowing magnificent stopping power. Adjustable brake levers equipped with motor inhibitors, which can instantly cut power to the motor whenever the brake levers are depressed.
Gearing — Shimano, 7 speed
Suspension — Rigid forks
Price tag of $2599 (13Ah) and $2899 (17.5Ah) for a bike this type, this is a great price (Hautland will include Free headlight protector, rear rack with tail light, fenders and rear pannier)
Best Use of the Cheetah Cafe Racer
This bike is a head turner. If you want the perfect combination of style and performance to comfortably take commutes through the city or around the block this bike is for you. Great power, robust stopping power, max comfort, and above all, unique style!
Our customer reviews give us the confidence to give this bike a 5-star review.
As one of them wrote to us:
"This bike is absolutely AMAZING! It is stylish and comfortable at the same time. Each ride is smooth and so much fun that I can ride this thing every day. The bike is extremely responsive and powerful when you need it… up hills are a breeze with its power. I am 55 and I feel like a kid again with my Cheetah. I absolutely love this bike." – Chester W.
Buy the Cheetah Café Racer and receive a Free bundle (Free rack, free leather panier, free fenders, and light protector)
To check this bike CLICK HERE
Full video review from ElectricBikeReview.com