5 Things To Consider Before Buying Your First Electric Bike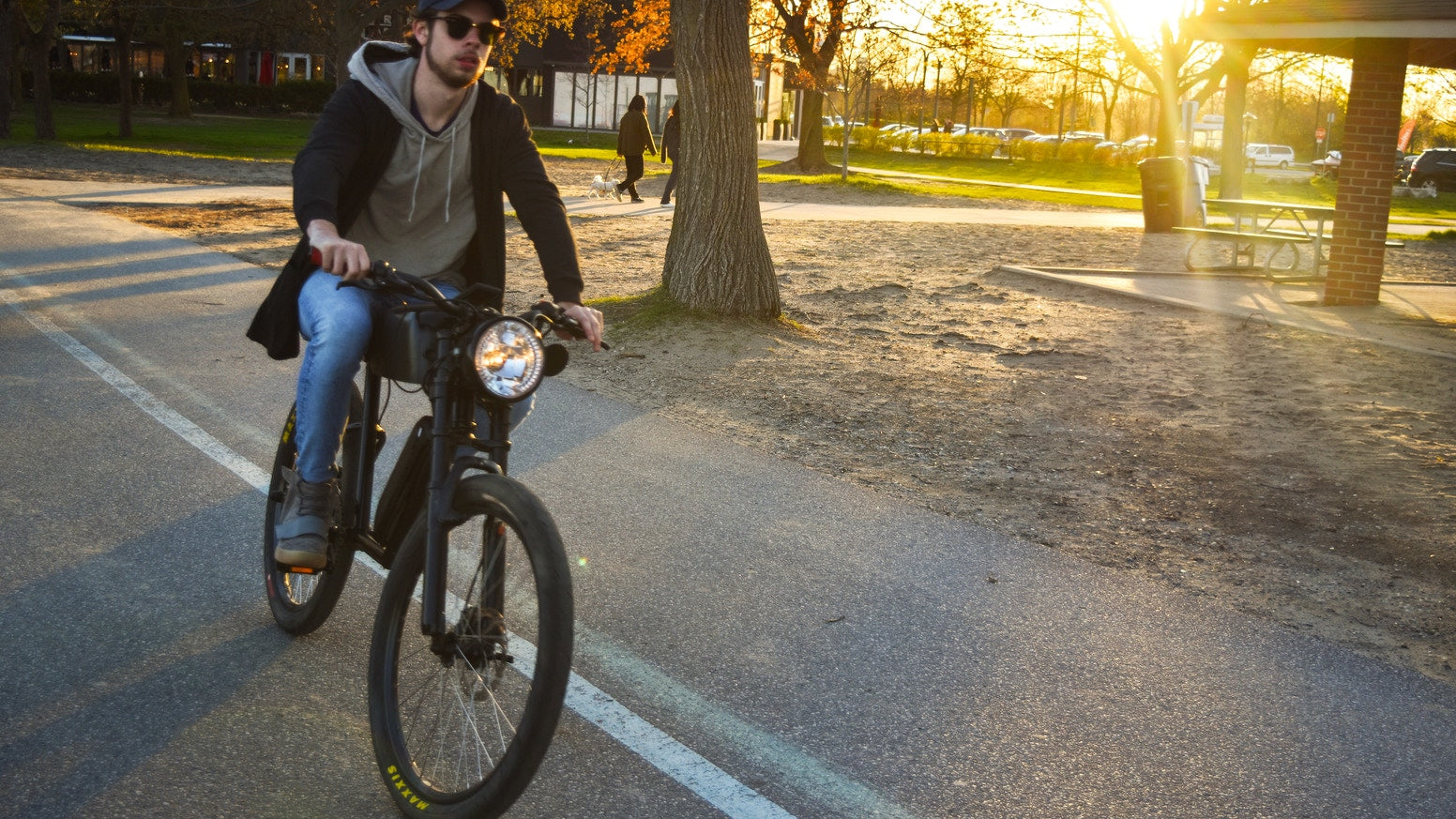 ----
5 Things To Consider Before Buying Your First Electric Bike
Electric Bikes offer countless benefits and they can be so much fun. The idea of investing in your first ebike can be exciting.. and it should be.
Electric Bikes have had such impressive growth in the last years, and will only keep growing. According to ebicycles.com, between 2020 and 2023, upwards of 130 million electric bicycles (using all battery technologies) are expected to be sold worldwide.
We've heard and seen it all, and we're still amazed of the amount of people embarking in the new trend. Electric bikes offer immense benefits such as: allowing you to reach longer distances vs a regular bike, being able to rest when you need a break from pedaling (a must for aching joints), you are helping the environment (green transportation), they are great for either adventures off road or simply commuting to work safely and fast. 
I mean, they are really a good thing.
But when you're ready to buy, make no mistake, there are things to consider and to be careful about before you jump in. Buying an electric bike has to be a thorough process, and this is why we give you 5 things to know before buying your first electric bike:
1) What Do You Need
This is fundamentally the first question you need to ask yourself. This will help in narrowing your search to the bikes that will suit best.
Are you planning to do off-road (all terrain), or hybrid (some off road and city rides), commuting (city bike), are you planning to use for cargo assistance (trike), or to take with you everywhere (folding bike)? When you know what you want, you will know what to search.
More on this:
Off-Road (All terrain) - Will generally mean a bike suited to wrestle the elements. Cross bar (or step thru if you feel you need easy access to the bike), 4" or 3" all terrain tires (3" tires more for mountain bikers), 500W or 750W (consider 1000W in case you want to haul stuff too) depending how hilly you will ride (the more hilly the more power you need), generally speaking a more flat handlebar (vs hybrid bikes which offer added comfort), front suspension fork (and you can consider mid suspension too -below your seat post for added stability in rugged terrain but more costly though-). Hydraulic brakes are a nice to have, but they are pricier too.
What bikes can be considered good Off Road options? check out the Voltaride, BAM Supreme, Rambo bikes, Civibikes Predator, Emojo Wildcat
Hybrid e-Bikes - In case you want to do occasional Off-Road, rides around the block, and anything in between. It will generally have what we described above, except you would not need added suspension (mid seat post) and some other specs. Look for front suspension, a curved and adjustable handlebar for added comfort (more upright driving position), and a more cushioned and comfortable saddle. You don't necessarily need to go beyond a 750W motor since your demand for power will not be as much as if you were to do pure Off Road. 4" tires offer more stability but 3" are a good lightweight option too (in case you know off-roading will be part of your adventures, consider 4"). Disc brakes is all you need.
What bikes can be considered good Hybrid options? check out the Voltaride, BAM Supreme, AE Steller, Ecotric Hammer
Cruiser e-Bikes - Generally speaking more comfortable and lightweight bikes suited more for commuting and enjoying rides in the city. 3" tires (lightweight), curved handlebar and comfy saddle, cross bar and/or step thru, motor power from 350W up to 750W can work knowing that demand for power is not that much (but make sure what level of hill riding you'll be going through).
What bikes can be considered good Cruiser options? check out the KBO Cruiser, KBO Hurricane, Cheetah Cafe Racer, EW Step Thru  
Trikes - A very convenient option when you need cargo assistance and safe riding to enjoy a ride in the beach, in the city, or around the block. A trike is a very safe option when considering a mode of transportation for seniors.
Check out our best seller Caddy Pro
Folding e-Bikes - When you definitely want to take your ride everywhere you go. A folding bike can be put in the trunk of your car or any corner of your Van or RV, and you will be having fun everywhere you go. An option that has increased in popularity in the last years.  
2) Riding Range and Motor
This is a very important factor. Riding your bike knowing that your battery will back you up, is peace of mind. If you are planning to ride longer distances than average then a good battery (48V 14ah and above) should be in the list. But note that the more you get the higher the price. Also, a good motor 750W and above is what you should look at in case your ride include some off-roading, uphill riding, and hauling. If not, a 350W-500W motor can work just fine (city and road bike), as explained above.
"A more powerful motor gets you more speed and more power to get you thru hills or hauling cargo, but at the same time it consumes more battery faster, which reduces your riding range."
We can't stress enough how important it is to have an extra battery with you at all times. Not only it will extend the battery life of your batteries, but it will also give you freedom and peace of mind when riding specially long distances.
If you are using your PAS 3 (Pedal Assist 3) and above, the battery consumption increases dramatically vs riding at PAS 2 and below. If you want to increase riding range on a single battery, you need to manage your riding and don't exceed PAS 3 (PAS 2 if possible).
Batteries can be integrated to the bike or external. Integrated will have a better look but will be more impractical for charging purposes vs the external battery (which can be detached and put to charge or replace faster). Bikes with integrated batteries tend to be pricier and there is no real benefit beyond its look.
Motors will be located either in the rear wheel (Rear hub motor) or as mid drive (where the crank set is located). Rear hub motors can provide the extra torque when most needed (hill and all terrain). The mid-drive motor holds the weight centered and helps keep a balanced and stable ride. 
3) Accessories Included With the Bike
Although it can sound a little trivial, accessories can make a huge difference when enjoying your bike. Some accessories can be of great help sometimes.
Fenders are a must for muddy terrain and to avoid getting water if rain catches up. Rear racks help tremendously when carrying bags or backpacks in case you need to transport goodies and other stuff. A phone holder with USB charge is ultra convenient. Front and back light are a must when the sun is down. Rear view mirror (some people won't like the look but they are very helpful).
Believe me, accessories can make a huge difference to enjoy the whole experience.
4)

 

Components
This refers in general terms to brakes, motor, tires, shift gear, LCD display, crank set/pedals.
Brakes can be mechanical (cable) or hydraulic (fluid - a more expensive option). Mechanical brakes in general terms will be just fine. Two well known brands in the breaks segment are Tektro and Shimano. Motor (explained above) matters too. Bosch and Bafang are two very well known brands in this segment. Shimano shift gear is a very well known and reliable brand. Tires are very important too, and this segment is dominated mostly by brands such as Kenda and Maxxis. 4" Tires are the standard for all terrain and 3" for road bikes. Some all terrain will have 3" to make them lighter and faster. 
4) Warranty 
Make sure to read and understand your Warranty. Usually frames will have a more extended warranty vs components. Make sure you get at least 1 year of coverage for components, and at least 2 years on frame. (Generally speaking frames are sturdy solid components and it is very uncommon to see them getting damaged because of defective issues).
5) Assembly Required
Assembly is an important part of the whole process. You don't want to get caught up not knowing how to put together your much awaited new toy.
For the most part electric bikes will come 80%-85% assembled, and in general terms, this is not a complex process. But some bikes will vary vs others. Make sure you understand how much assembly is required on your next E-bike. The less work for you to figure out, the better. Assembly videos are a great tool that will better illustrate the process vs written manuals. Make sure to ask if videos are available. Trikes will usually require some additional assembly.
Additionally, in case you feel you need assistance with assembly, you can have the bike shipped to a nearby bike shop directly, so they can assemble and ensure this is properly done. Letting the pros do the job (in case you think you need it) can always make things easier. Make sure to call the bike shop ahead of time to ask about this service. 
Other factors such as recommended rider height, and max load are always important to check. Make sure your height is suitable to the bike (read manufacturer specs), and max load. Generally speaking all terrain bikes will withstand weight up to 350lbs and smaller bikes up to 250lbs. But make sure to read carefully about this. Check on stand over height, pedaling height, and overall Geometry of the bike.
Bottomline
Your next E-Bike is an investment. You should get to know as much as you can about your next bike and what you need it for. Pay attention to the details and make sure what you need is what you get. The above information should give you a good starting point when deciding for your next E-Bike. But if you have additional questions, we're always here to help. Send us a note to Support@Hautland.com
Thank you!
---
Ready for your next e-Bike? Check our best sellers: