Emojo Caddy Pro 500W Electric Trike Review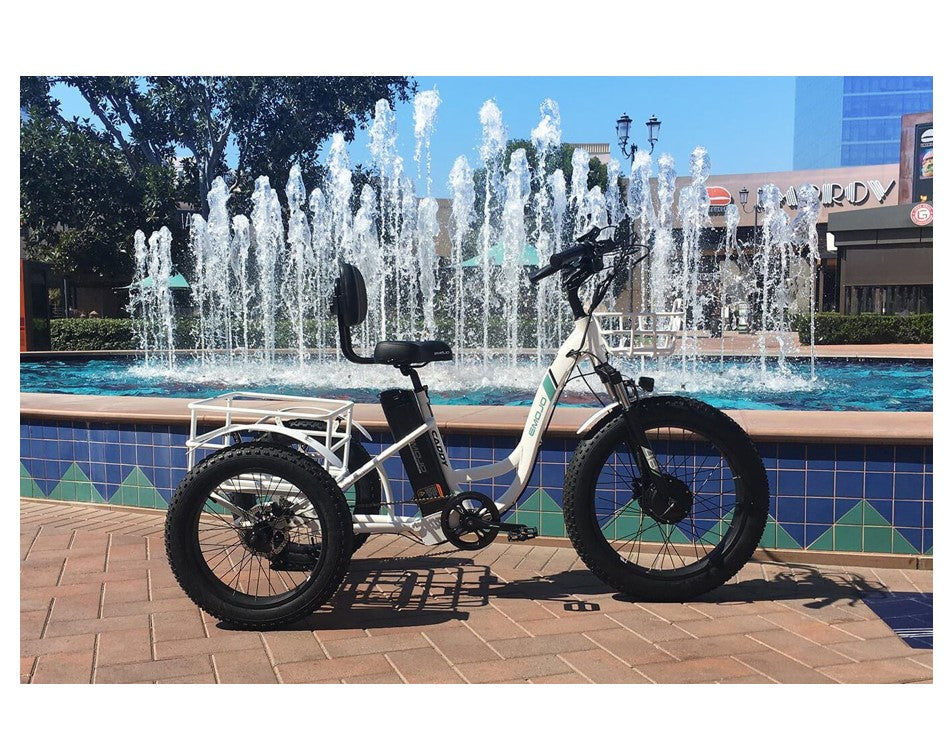 Emojo Caddy Pro 500W Electric Trike Review
---
Overview and Specs
Why we like the Emojo Caddy Pro
Recommendations
Final Word
Overview and Specs
Electric trikes are becoming more and more popular nowadays, especially for individuals in their 60s and above who are looking at a convenient, functional, and safe way of electric transportation. Well, the Emojo Caddy Pro offers all this.
The Caddy Pro is a high-quality trike with a very solid build on a highly stable aluminum alloy frame. This is a very functional and versatile trike which can be used as utility cargo, or to peacefully ride around the block, the city, or the beach. With a front and rear basket (with chain clips that allow the back slate to function as a tail gate just like a pickup truck) and holding in total an awesome 330lb capacity, this trike has the functionality and versatility on point.
With 4" tires this trike will give you the ideal stability on each ride, and they come with fenders which always help in keeping you dry (nice plus). It comes with a rubber bumper Velo saddle which together with the front suspension (Mozo -great quality-), you will really feel the comfort. Other little details such as the plastic chain guide so your clothes don't get snagged, make a difference too.
The Emojo Caddy Pro has a 500-watt Bafang motor that can reach top speed of 20mph. In our opinion this is more than enough given the fact that high speeds on electric trikes are not recommended. It has a very quiet and reliable single speed drive train and with hydraulic brakes you can rest assured that this trike will have the stopping power when you need it.
The Emojo Caddy Pro comes with a 48v 15.6ah battery with USB port (nice plus) which can give you a very good range on each charge. The wight on this trike is approx. 90lbs
Why we like the Emojo Caddy Pro
Durability & Build Quality
Max Comfort: back seat, rubber bumper saddle, front suspension. The trike also features swept back handle bars, adjustable angle stem, and ergonomic rubber grips. This trike offers max comfort
Performance and reliability: We have had ZERO complains about performance. High quality 500W Bafang motor and good battery range (48V 15.6Ah)
Stability: 4" tires will adapt to any terrain
Versatility and functionality: Use for cargo assistance (rear and front baskets), mobility, commuting, riding around the block, city, or beach.
Safety: Hydraulic brakes, plastic chain guide, and a battery integrated headlight that points where you steer are some of the features that make the Caddy Pro a very safe and reliable trike
Features both throttle and pedal assist, and the throttle can be swapped to the other side if you wish
We absolutely love the Emojo Caddy Pro but note it requires a bit more assembly than the average e-bike.
Recommendations
If you need assembly assistance, you can always ask to ship to a nearby bike shop where they can do the assembly. Letting the pros do their job (specially with a Caddy Pro) can always be a good option. Ask your bike shop in advance if they offer these services.
Store your battery in a cool dry location vs. extreme heat/cold so you can extend the life on your battery. Also try to keep it at least 50% full when not using it for long periods. Try not to let it run down to zero, because that's really hard on the cell chemistry.
Read more on extending your battery life
Final Word
The Caddy Trike is really cool, functional, and versatile trike that can offer a variety of uses. Using a trike will always require caution and that is why the Caddy Pro is built around performance, reliability, and safety. The trike requires space to maneuver and park so make sure you know where you're going and what the trike is capable of. Get to know your trike and be aware of what it can and can't do. Overall, this trike offers amazing value for its $2,799 tag (you can get a better price using our discounts). Additionally, Emojo has been around for a few years now, and their post-sale service is one of the best in the industry. Josh will get on the phone with you for any issue you need help with.
Get 8% Off Today on the Emojo Caddy Pro! Use code Hautland8 at checkout
Get FREE Bundle ($167 Value): FREE Helmet with Backlight + FREE Anti Slip Bike Gloves + FREE Phone Holder