LionEnergy Safari LT Portable Solar Power Station – Overview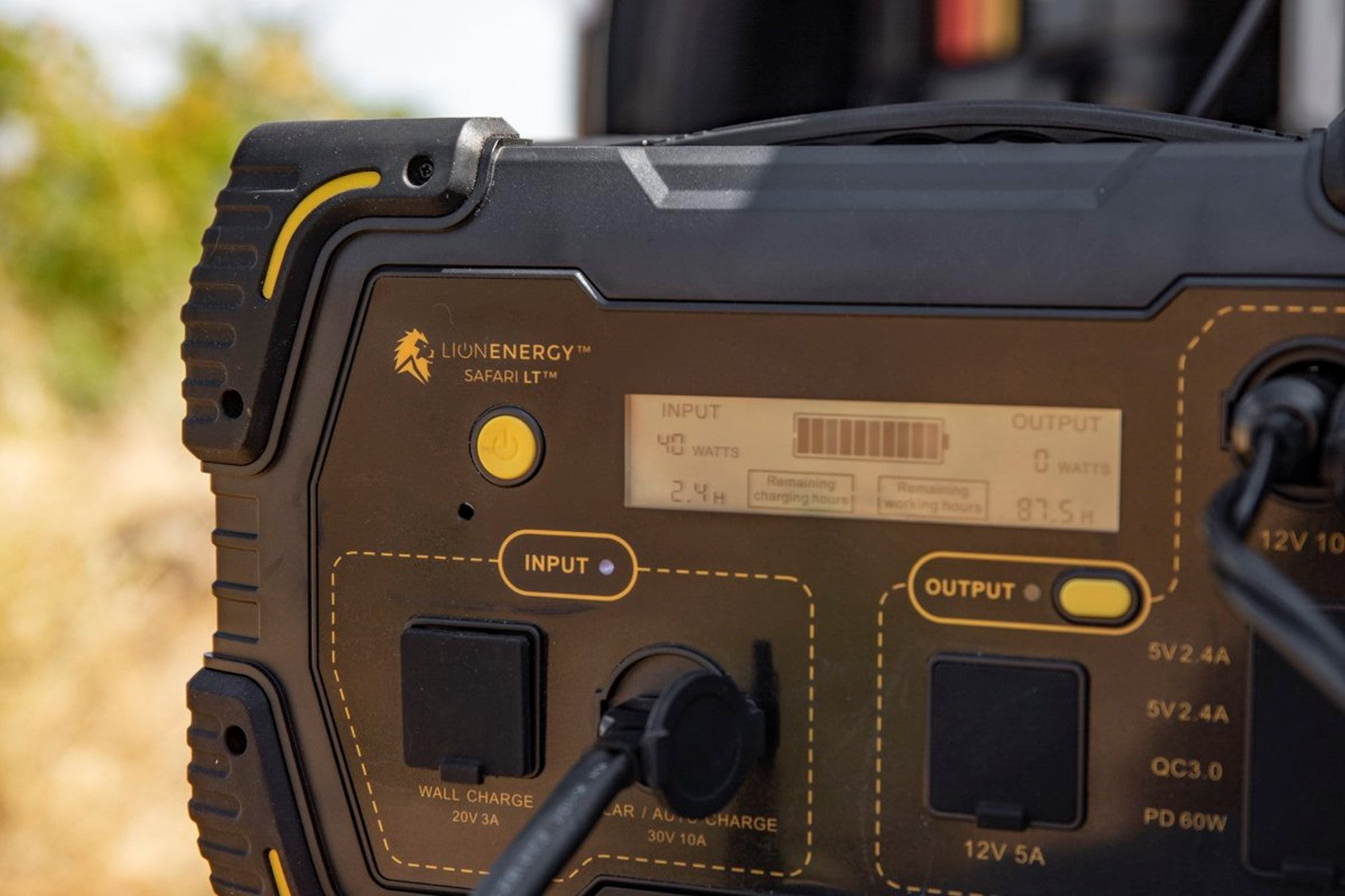 LionEnergy Safari LT Portable Solar Power Station – Overview
Power is needed everytime and everywhere. Outdoor enthusiasts and stay at home (precautious) individuals will always look into ways of having power available. It is a necessity.
Besides food, water, and shelter, power is the next most important thing when you're on the road. Essential equipment such as iPhone, laptop, small fridge, and others are essential to keep alive, for obvious reasons.
"As soon as we lose power, we become aware of how important it is for any situation. Power on the go is critical."
Power stations vary in size and power. And portable stations are specially designed to both the outdoor enthusiast and as backup power at home. Having a portable power unit gives you the peace of mind knowing that you're covered in case of power outages.
Although there are many brands and models out there, we will be focusing on reviewing the LionEnergy Safari LT which we consider to be at the top of the game vs other size-like models such as Acopower 400, Goal Zero 400, Jackery 500.
What we like:
Rugged design: One feature that called our attention is its rugged design. The bumper corners on the unit are definitely a BIG plus, making it a perfect fit to take it to action anytime and anywhere. It will stand the test of use and overuse. Unlike other units, The Safari LT is ready for the action!
Compact design: This unit is amazingly compact (11.8 x 6.5 X 7.3 Inches) and light. The unit weighs in at only 11lbs and is compact enough to fit on the side of any cargo area in your car, van, SUV, RV.
Fast Solar Charging Station: With a 140W MPPT (maximum power point tracker) charge controller built-in, it is one of the fastest solar charging power stations out there.
Multi Charge offering 3 ways of charging: Solar Panel (100W), wall outlet (110W), car lighter (12V)
With direct sunlight you can fully charge your power station from 0 to 100% in around 5-7 hours with a single panel (or 3.5 hours with double panel). And this is one of the areas that the Safari LT really stands out. This is important if you are in the outdoors for more than a few days and you need the sun to power your setup.
Lion Energy provides two wall chargers. One is a fast charger that can charge the unit in under 3 hours and one is a slow charger that will take around 9 hours.
The Safari LT has one of the fastest charge rates on the market. It can charge at an impressive 140 Watts and can be fully charged in around three hours.
Battery capacity: 450Wh with Battery output of 500W
Output: With two AC 110V Outlets, one 12-volt 10A port, four 12-volt 5A ports,  three USB ports, and one USB-C port, the Safari LT features more than enough charging outputs for most users.
What the Safari LT can charge: Mini Fridge – 55w: 6.5 Hours, iPhone – 5w: 72 Hours, Laptop – 45w: 8 Hours, 55″ LED T.V. – 75w: 4.8 Hours, LED Reading Lamp – 4w: 90 Hours, Hot Plate 40 mins, Drone – 40w: 9 Hours
The Safari LT has a lifetime of more than 1000 charge cycles, and has an impressive charge retention of 1+ year.
It is definitely a top of class unit and it is our number #1 best selling portable generator. This is why we give this unit a 5-Star Best Portable Unit mention at Hautland.com
BUY HERE