10 Ideas for Making Great Memories with your Grandchildren while Camping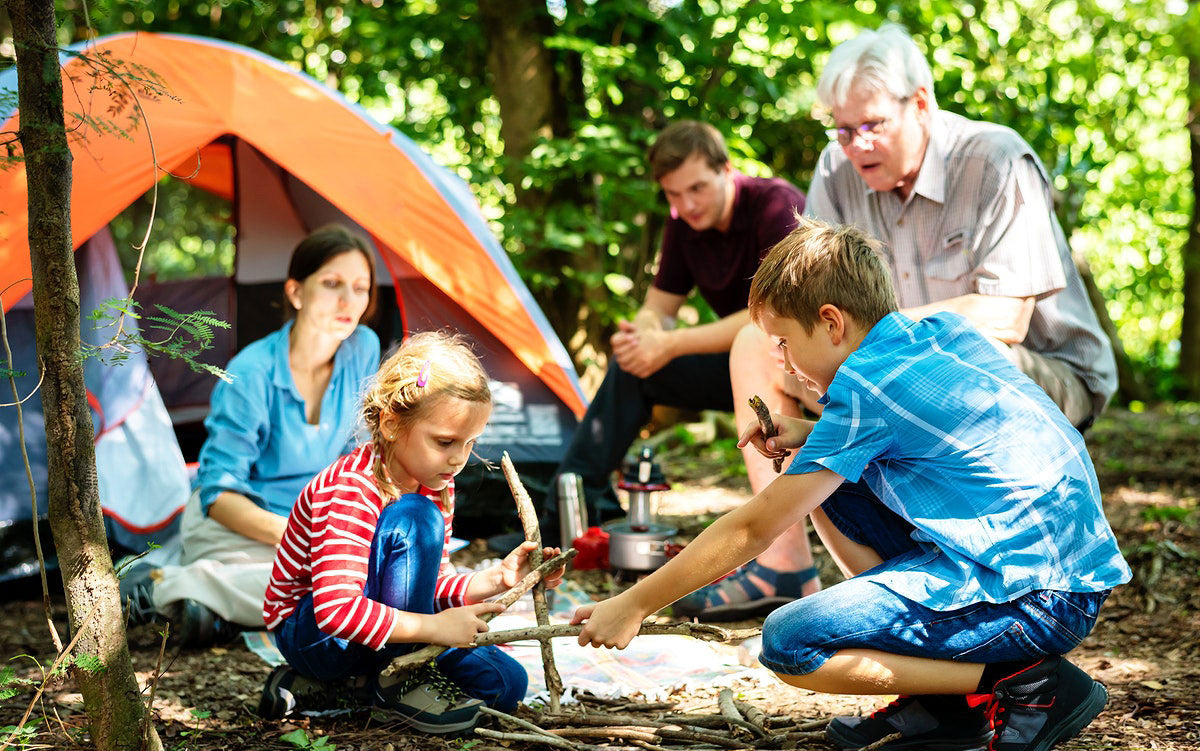 Taking your grandkids camping is a gift they will never forget. The smell of the campfire, the taste of s'mores, and the sounds of the wilderness at night will stick with them for life and inspire them to someday take their own kids camping. Here are our top 10 tips to help give your little campers the experience of a lifetime in the great outdoors.
1. Turn a hike into a scavenger hunt
Scavenger hunts are a fun way for kids to explore nature while playing a game. You can walk around the campsite or go on a little nature hike looking for items on the list like yellow flowers, squirrels, and pine cones.
2. Take them geocaching
Geocaching is like a scavenger hunt for a little canister placed there by someone else. You use a GPS to find it and then you take a small item from the canister and leave an item behind for the next person. Kids get really excited about this challenge and it can be a fun way to get out and explore together.
3. Let the kids gather kindling for the campfire
Every child looks forward to having a campfire. Let the kids help you get the fire started by showing them what items make the best kindling and letting them do some of the gathering. This is also a great opportunity to talk to them about fire safety.
4. Bring along a glow-in-the-dark frisbee
After all those s'mores your grandkids may need to burn off a little energy before bed. Bring a glow-in-the-dark frisbee or ball for some post-sunset fun.
5. Take them swimming
Camping near a swimming hole makes for all-day entertainment and exercise. Find a nearby river or lake for the kids to splash around in or play on the bank. Make sure to check out the current, bring lifejackets for everyone, and be mindful of your grandchildren's swimming abilities.
6. Sing camp songs or tell stories around the campfire
What's camping without a campfire? Some of the best camping memories will come from the time you spend around a fire together eating s'mores, singing songs, playing games, and taking turns telling stories.
7. Ride bikes
Bringing along a couple of bikes is never a bad idea. The kids can burn off some energy riding around and it's a fun way of traveling to and from the campsite bathrooms.
8. Stargaze
Getting away from the light pollution of the city and seeing a full sky of stars is one of the most magical things about camping. Try downloading a stargazing app and helping the kids identify stars, planets, and constellations in the night sky.
9. Take them fishing
Fishing is an essential part of camping for many families. There's nothing like helping the little ones get their first catch, something they will remember for years to come. Grab a few poles and teach them the way.
10. Set up a "kids tent"
This is a fun way for the kids to bond with their siblings or cousins and have their own independent kid's space. Even if they sleep in the big tent with you, a "kids only" tent is a fun space for them to play